Upgrading your property is all in a day's work if you're a homeowner. There's always something to work on throughout the year, but there's no doubt that things get easier when fall is around the corner. Around this time, the heat of summer gradually eases, allowing you to work on labor-intensive projects without breaking too much of a sweat. If you have been planning to make improvements around your home, you might want to take advantage of the opportunity fall brings. When the weather is neither too hot nor too cold, take the time to focus on high ROI projects that add value and curb appeal to your property while improving the overall functionality of your home. Let's look at the seven top home improvement projects that are worth investing in for the 2022 fall season.
1. Clean Your Chimney
When was the last time you gave your chimney a good cleaning? If it's been too long, cleaning your chimney should be one of the first home improvement projects on your to-do list. This is a priority if you're planning to put your chimney to good use by using your fireplace to help heat your home during the colder months. One of the biggest benefits of cleaning your chimney is that it increases heating efficiency. When your chimney is clogged, this prevents enough oxygen from getting through to the burning wood. Therefore, instead of a thorough, efficient burn, it becomes harder to improve your home's overall warmth.
Additionally, when your chimney is clogged, things can get downright dangerous. Insufficient oxygen leads to incomplete combustion of the carbon in the wood, and the byproduct is carbon monoxide, which can be deadly when inhaled. The danger with carbon monoxide is that it's odorless and colorless, making it harder to detect. You should also note that having a clogged chimney prevents the proper release of toxins and smoke from the fire, in which case, using your chimney will do more harm than good. The potential safety risks don't stop there because one of the biggest hazards of a dirty chimney is the threat of a fire.
A substance called creosote builds up in your chimney over time with constant use. Creosote is highly flammable, so this build-up needs to be cleaned routinely to avoid the worst-case scenario. Fortunately, a professional cleaning can work wonders. By prioritizing regular chimney cleanings, you can lower the risk of carbon monoxide poisoning and avoid chimney fires. The removal of debris and other contaminants will ensure that smoke flows in the right direction. When you take care of this easy home improvement project, you can be confident your chimney is in the best shape to meet your home's heating needs this coming winter.
2. Install a Metal Roof
Today, asphalt shingles cover 70-80% of the roofs in the United States, according to Contractor.Org. There's no denying that asphalt shingles are highly popular, but you should consider there are better roofing materials that offer superior benefits compared to shingles. One of these options is metal roofing. The major downside of metal roofing is that it comes with more upfront costs, but this is hardly a downside. After all, a metal roof typically offers a high ROI and can pay itself back over time. That's because metal roofing is extremely durable, has a long lifespan, can be energy efficient, and requires minimal maintenance.
According to Bob Villa, metal roofs can easily last up to 50 years or more if the property is maintained and installed. This is compared to asphalt shingles, which can last up to 20 years. Metal roofs made from zinc or copper can even last 100 years, making metal roofing a lifelong investment that eliminates the need for another roof replacement down the line. To ensure a quality installation, be sure only to consider experienced metal roofers. The good news is that metal roofing tends to be lightweight and easier to handle so you can expect a speedy and efficient installation.
For those who are looking for home improvement projects that improve energy efficiency, metal roofing fits the bill and can help you reduce your energy costs. That's because metal roofing has high reflectivity, meaning it reflects the sun's rays back into the environment. Additionally, metal roofs have high emissivity, which allows them to cool off quickly by emitting heat back into the surroundings. Thus, metal roofs minimize heat build-up during the summer, allowing your AC unit to work more efficiently.
Unlike shingles, metal roofing is recyclable, so it's more environmentally friendly than asphalt shingles, which usually end up in landfills. Additional benefits of investing in a high-quality roof include better durability since such a roof is resistant to moss, fungus, fire, strong winds, rust, moisture, and impact. A metal roof has the ability to withstand the elements throughout different seasons, ensuring you can save money by hiring roofing services less frequently for repairs.
3. Remodel Your Kitchen and Bathroom
It's a myth that fall is not a good time for home improvement projects. In fact, it's one of the best times to start home improvement projects, including kitchen and bathroom remodels. If you're working with a remodeling contractor instead of doing it yourself, fall is the best time to go on vacation while your kitchen and bathroom are being sorted out. Even if you're planning to stay home during the holiday season, a newly remodeled kitchen and bathroom improve the overall functionality of your home. The holiday season is ideal for spending time with family and friends and making your favorite dishes.
If your existing kitchen is not currently meeting your needs, you have the opportunity to make the necessary upgrades. Perhaps you want to install kitchen cabinets and new countertops, so you have ample space for meal preparation. Or do you want to upgrade your appliances to create a functional kitchen where you can prepare your meals quickly and conveniently? When it comes to your bathroom, this is another shared space that needs upgrade from time to time. Popular home upgrades include adding a vanity and installing custom cabinetry. When done right, a bathroom remodel boosts not only functionality but also enhances aesthetics.
Hiring a kitchen or bathroom remodeling contractor in the fall means that these professionals will be available to give your home undivided attention. The general trend is for most homeowners to wait until spring or summer to work on home improvements, so these tend to be the busiest times. You're more likely to get the best prices and take advantage of great discounts during fall when the demand for contractors drops. The good news is that most contractors prefer indoor projects in the fall since the weather gets increasingly cold. Interior jobs like kitchen and bathroom remodeling make life easier for contractors since they're not exposed to harsh weather outside.
4. Upgrade Your Appliances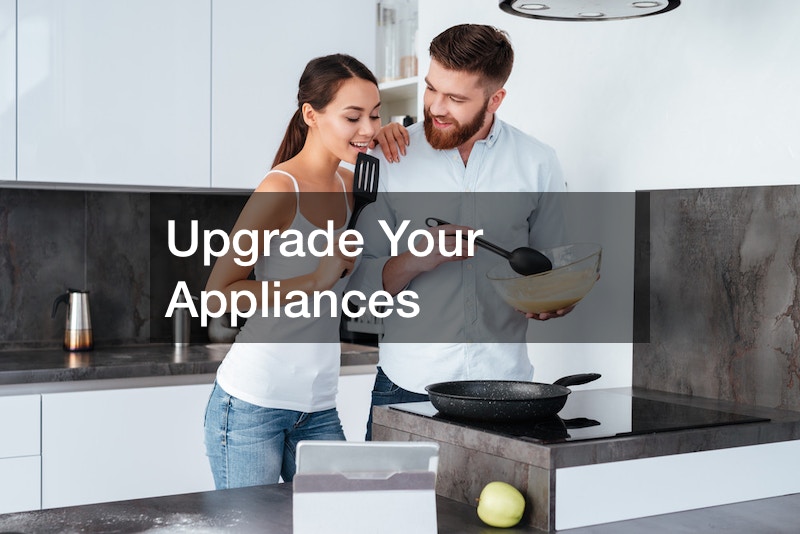 As mentioned, fall is one of the best times to get your kitchen remodeling started. One reason for this is that it's a good time to upgrade your kitchen appliances so that when winter comes, you'll have all the convenience you need at your disposal when making meals. There are so many appliances that can enhance the functionality of your kitchen. The list includes a new refrigerator, an air fryer, a toaster, or a range. These days there's a wide range of smart appliances with features that will make life easier for you in many ways.
For instance, an investment like a smart fridge can save you money if it comes with a built-in camera. This lets you know what's inside, so you don't have to keep opening the door and letting cold air outside. To help your money stretch further, be on the lookout for appliance rebates that can help you save a pretty penny. Appliance rebates typically apply to energy-efficient models with high Energy Star ratings for appliances like dishwashers, dryers, and washers. Make sure you hire reputable appliance installers to protect your investments.
5. Install New Floors
When considering home improvement projects that make a big difference during the coming winter, it helps to consider new flooring installation. The right flooring can significantly improve your home's comfort level while helping you create a cozy vibe that's fitting for winter. Installing new floors is a home improvement project that's worth considering if your existing floors no longer serve your needs. Perhaps they're too worn out, or you prefer flooring that remains warm and cozy throughout winter. In that case, one of your top flooring options should be carpet, which is one of the warmest, coziest options available on the market.
The biggest benefit of carpet is that it provides insulation which ensures better energy efficiency to help lower your heating costs. You might also be interested in quality hardwood flooring, which is a worthy investment because it's resistant to moisture and humidity issues. More options include tile, another excellent insulator that's also popular and comes with many design options. Laminate flooring can be made to mimic, thus helping you to achieve the cozy appearance of wood in a more affordable way. You can even consider natural stone, which is extremely durable and has a unique, elegant look. The good news is that natural stone is compatible with underfloor heating since it conducts and retains heat well.
6. Build a Deck
Fall is hardly the time to start thinking about building a deck, but if you're thinking of the bigger picture, it's easy to see why this is a great improvement project. The goal is to avoid the trouble of finding a deck builder in early summer. By the time summer rolls around, your future self will thank you for having everything all set up ahead of time. As a smart homeowner, you know that early summer tends to be the busiest season for home improvement projects. That's probably because the warming weather is more conducive to home improvement projects and prevents delays. The problem is that when there's a demand for deck builders, it might be stressful trying to schedule the deck construction and find an available deck builder.
Additionally, when these services are in demand, the prices tend also to increase. As such, fall might be the perfect time to get discounts on off-season jobs. The benefit here is that, since deck builders are dealing with smaller workloads, they are more likely to deliver quality service and be more available to ensure the efficient completion of your project.
7. Invest in Window Treatments
The best home improvement projects for the fall of 2022 are geared toward preparing your home for a comfortable winter. That's why we are suggesting you invest in new window treatments. There are many practical benefits of installing new window shutters, for instance, especially if they're blackout shutters. One of them is that you get extra insulation against the cold. When you're huddled inside your home, you'll soon discover that every bit of insulation helps. The right window treatments can do a good job of keeping heat trapped in your home, right where you need it to be. This insulation improves your home's energy efficiency since your heating system has less work to do.
On the other hand, when the heated air in your home keeps escaping, your HVAC system has to work harder to maintain the desired temperatures. That means you'll use more energy to keep your home comfortably heated. Therefore, it's better to shop around this fall and look for the right window treatment that minimizes air leakage. Investing in new window treatments also offers other benefits, such as better control over the amount of natural light that comes into your home. With so many design options to choose from, you'll enjoy the aesthetics of your home better once you have installed new window treatments.
As mentioned, the weather is just right during fall, but it won't last for long before temperatures dip and winter sets in. In that case, consider hiring professionals to complete your home improvement projects efficiently. The problem with DIY is that it can be time-consuming and inefficient. So, for instance, if you want to give your chimney a deep cleaning, hiring the best chimney cleaning company will get the job done more quickly. Work with reputable professionals as much as possible to ensure you're ready to snuggle inside your upgraded home by the time winter arrives.